1:08
Survivor321
Dra, will you quit that fuck ing meme already?
It's not that quotable.
1:08
1dra7
yes it is
1:08
Survivor321
If you're gonna steal something I say, at least use something actually quotable.
1:09
1dra7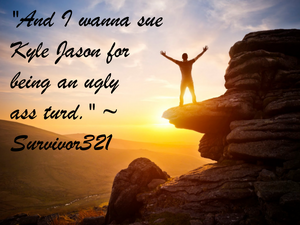 it even has its own picture
1:09
Survivor321
.....You fuck ing didn't.
1:09
1dra7
you are right I did not do that
1:09
Survivor321
Dude, I didn't want that to become a meme.
1:09
1dra7
someone else did
1:09
Survivor321
I was gonna be a celebrity for Nettunez, not this.
(long story btw)
Dra...hello, it's me.
HELLOOOOOO.....can you hear me?
Okay, since you're not responding..........HELLOOOOOOO FROM THE OTHAH SIDEEEEEEEEEE!
Ad blocker interference detected!
Wikia is a free-to-use site that makes money from advertising. We have a modified experience for viewers using ad blockers

Wikia is not accessible if you've made further modifications. Remove the custom ad blocker rule(s) and the page will load as expected.