Survivor: Borneo
Edit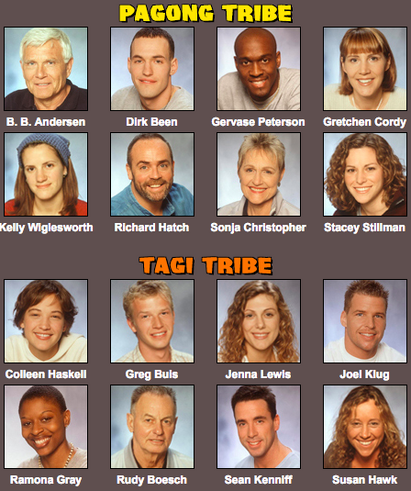 Episode No.
Reward Winner
Immunity Winner
Voted Out
Vote Count
Total Votes
1
N/A
Pagong
Sean
4-4; 4-2
4
2
Tagi
Tagi
Gretchen
5-3
5
3
Pagong
Tagi
Gervase
3-2-2
5
4
Pagong
Tagi
Stacey
3-2-1
3
5
Pagong
Pagong
Rudy
4-3
4
6
Pagong
Pagong
Colleen
4-2
7
7
MERGE
B.B.
Richard
5-5; 5-3
10
8
B.B.
B.B.
Kelly
5-4
7
9
Jenna (shared w/ Dirk)
Jenna
B.B.
5-3
5
10
Greg
Ramona
Dirk
5-2
5
11
Sonja (shared w/ Sue)
Sue
Sonja
5-1
9
12
Sue
Jenna
Greg
4-1
4
13
N/A
Jenna
Ramona
3-1
3
N/A
Jenna
Joel
1-0
9
Runner-Up:
Susan
7-0
3
Sole Survivor:
Jenna
10
Reunion
Fan Favorite: Joel
Memorable Moments
The Richard vs. Gervase clash at the Pagong camp taking place at the peak of Pagong dysfunction in which 3 votes is enough to send Gervase home.
The unlikely clique of Kelly, Richard and Sonja starting to vote together at every tribal pre-merge until Richard's exit.
B.B.'s brief flip to Tagi not paying off in the slightest.
Jenna exacting her revenge on perpetual frenemy Joel at the final three, leaving him devastated at not making the finals.
Jenna's unanimous win coming from her Immunity Challenge dominance and general likability among the tribe.
In addition, Jenna's groundbreaking speech about supporting her two children (especially after not getting a video from them) with the million dollars she might earn; a speech that touched the hearts of the Jury and of 50 million Americans.
Survivor: The Australian Outback
Edit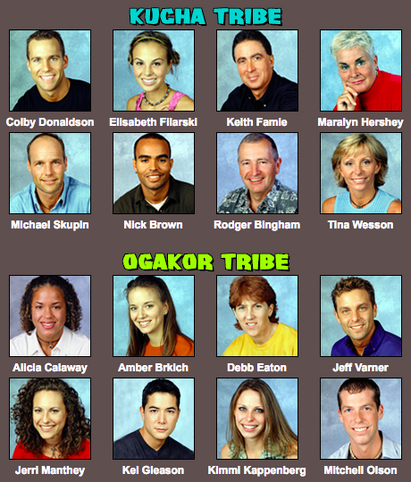 Episode No.
Reward Winner
Immunity Winner
Eliminated
Vote Count
Total Votes
1
N/A
Kucha
Keith
6-2
6
2
Ogakor
Ogakor
Tina
4-4; 4-2
4
3
Ogakor
Kucha
Maralyn
4-3
6
4
Ogakor
Kucha
Debb
3-3; 3-1
4
5
Kucha
Ogakor
Kel
4-3
4
6
Ogakor
Ogakor
Kimmi
3-2-1
9
7
MERGE
Rodger
Jerri
7-3
10
8
Michael (shared w/ Mitchell)
Michael
Mitchell
6-3
6
9
Elisabeth & Jeff
Nick
Rodger
3-3-2; 4-2
5
10
Auction
Michael
Elisabeth
4-3
5
11
Michael
Colby
Amber
3-3; 2-2; PV
8
12
Jeff
Jeff
Nick
3-2
3
13
Colby
Jeff
Michael
3-1
11
14
N/A
Colby
Jeff
1-0
1
Reunion
Runner-Up:
Alicia
4-3
6
Sole Survivor:
Colby
3
Fan Favorite: Amber
Memorable Moments
The first true act of Survivor duplicity when Colby voted out Tina, a member of his alliance.
Jeff and Nick being so fed up with the Amber/Jerri/Mitchell clique that they abandoned them at the merge.
Jeff and Nick later becoming the underdogs once most of the old Ogakor tribe had been wiped out, with Jeff cockroaching to the final three.
The big Kucha fracture mid-merge in which everyone realized that, just like Ogakor did not stick together, Kucha had the freedom to also splinter.
The first close jury vote in Survivor history.