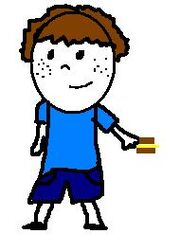 Steven is the lazy, cheese-loving 4th member of the
WolduWarriors
who loves to hang out with
Zeke
and
Jarl
.
Steven is extremely lazy. He likes cheese sandwiches, but not blue cheese. He has long brown hair and lots of freckles. In the first game he wears a long red shirt and blue shorts. In the second game he wears a turquoise shirt and blue jeans.
Steven is the funniest of the four WolduWarriors, with Zeke, Will and Calvin being the best, strongest and fastest, respectively. Steven throws cheese-related items at enemies to hypnotize them. His special attack is Sandwich Rumble, which he can learn by training with Mo. Steven is playable starting in Chapter 2-3 in WolduWarriors and Chapter 1-4 in WolduWarriors 2.
Ad blocker interference detected!
Wikia is a free-to-use site that makes money from advertising. We have a modified experience for viewers using ad blockers

Wikia is not accessible if you've made further modifications. Remove the custom ad blocker rule(s) and the page will load as expected.