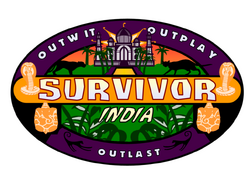 Sixteen Americans are brought to India, where they are joined by two returning players from Survivor: Micronesia.
Previous Season: Survivor: Polynesia
Next Season: Survivor: Romania
Contestants
Edit
Contestant
Original Tribe
Switched Tribe
Merged Tribe
Finish
Total Votes
Natalie Simmons
33, New York, NY
Bandara
1st Voted Out
Day 3
6
Aubrey ChamberIain
23, Lansing, MI
Hathi
2nd Voted Out
Day 6
81
Gertrude Flabberman
65, Boston, MA
Hathi
Ahmad Aksaljalksjad
53, Delhi, India/New York, NY
Hathi
Nick Moritz
24, East Lansing, MI
Hathi
Marilyn Crowley
25, New York, NY
Hathi
Greg Lambert
27, Los Angeles. CA
Hathi
1
Evie Rodriguez
18, Chicago, IL
Hathi
Eddie Rozell
20, Wilkes-Barre, PA
Hathi
71
Eliza Orlins
30, New York, NY
Vanuatu & Micronesia
Hathi
Napoleon Outlaw
30, Brooklyn, NY
Bandara
Kelly West
21, San Francisco, CA
Bandara
Boris Coffington
28, Jefferson City, MO
Bandara
3
Whitney Wolfe
32, Los Angeles, CA
Bandara
Dave Chapman
63, Suttons Bay, MI
Bandara
Pennington Schmidt
32, Los Angeles, CA
Bandara
Ludia Manis
28, Houston, TX
Bandara

Jason Siska
27, Spring Grove, IL
Micronesia

Bandara
1 = Aubrey and Eddie tied, so there was a revote and she gained an additional 4 votes, while Eddie gained 3.
Voting Table
Edit
Original
Tribes
Episode #
1
2
Eliminated:
Natalie
6/9 votes
Aubrey
4/9, 4/7 votes
Voter
Vote
Ahmad
Aubrey
Aubrey
Boris
Natalie
Chappy
Natalie
Eddie
Aubrey
None
Eliza
Eddie
Eddie
Evie
Aubrey
Aubrey
Gertrude
Aubrey
Aubrey
Jason
Boris
Kelly
Natalie
Lambert
Eddie
Eddie
Ludia
Natalie
Marilyn
Lambert
Aubrey
Napoleon
Boris
Nick
Eddie
Eddie
Pennington
Natalie
Whitney
Natalie
Aubrey
Eddie
None
Natalie
Boris
Ad blocker interference detected!
Wikia is a free-to-use site that makes money from advertising. We have a modified experience for viewers using ad blockers

Wikia is not accessible if you've made further modifications. Remove the custom ad blocker rule(s) and the page will load as expected.