Total Drama Ridiculousness is the second season in my B series.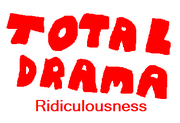 There are twenty-four characters competing for $1,000,000,000,000,000. There is not an even amount of the two genders.
Characters
Edit
The Fighting Turds
Edit
Pwip, the Bratty Kid
Jeremy, the 1-Year-Old With Issues
Stone, the Stereotypical Canadian
No-Name, the Kid With No Name
Neddy, the Hot Calm Dude
Fainting Poker Buddy, the Fainting Poker Buddy
Will, the Hyper Kid
Steven, the Cheese-Obsessed
Calvin, the Inappropriate Kid
Beana, the Obnoxious Midget
Lito, the Cool Counselor
Mattie, the Hot Counselor
Cagney and Friends
Edit
Cagney, the 1920's Mobster
Joe, the Buff Hooga-Hooga
Jixx, the Hot Hooga-Hooga
Mo, the Hyper Hooga-Hooga
Jarl, the Lazy Hooga-Hooga
Tibblum, the Baby Hooga-Hooga
Reuben, the Talking Sandwich
9th Boss, the Laidback Dragon
Squinky, the Strong Guy
Blinky, the Cocky Guy
Charles, the Wimp
Alfred, the Troll
Pwip, Jeremy, Stone, No-Name, Neddy, FPB, and Beana are all from the Pwip series.
The others are from the WolduWarriors series.